BIG BREAKING 👉मुम्बई के 2 होटल मालिको ने लिखी राज्यपाल को चिट्ठी✍️

कहा सारे विधायक हमारे पास हम बनायेगे सरकार🤣😁
Funny Jokes
FunnyTube | 25-11-2019
पहले डर लगता था कि..

दो हजार का नोट बंद होने वाला है...

अब डर लगता है कि...

नोट से पहले बैंक बंद ना हो जाये...
Funny Jokes
FunnyTube | 09-11-2019
View All Quotes/Jokes
Search On Other Website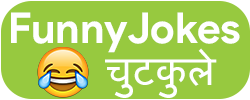 Welcome to FunnyTube, your daily source for funny videos, Quotes, Jokes, Images on the Internet.
We break down some of the best funny videos online, Whatsapp Status Videos collection. Quotes, Funny jokes in Hindi, Funny Images, Trending Memes and Viral News. Laugh and Share Today.
×
Copied!
Paste On Your Favourite Social App